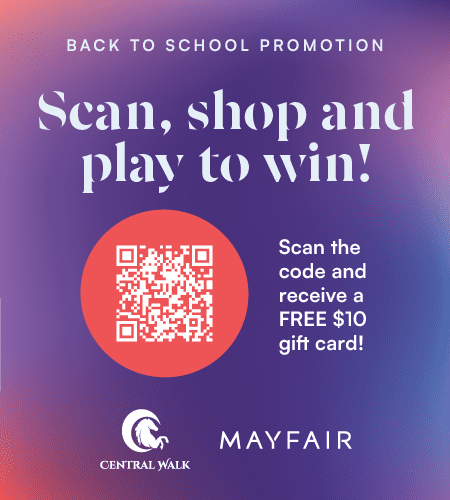 Date
Sep 03 2022
Expired!
Scan, Shop, and Play to Win!
Mayfair is celebrating Back to School with massive giveaways, fun games, and more!
Join us on September 3rd for a fun-filled and family-friendly all-day event. There will be $20,000 gift card giveaways, and 18 grand prizes up to $6,000 for you to win! Don't miss out our LAST Scan, Shop & Play to Win event of the year!
Scan: Visit our shopping centre and scan the QR Code on your phone to win free gift card giveaways and 18 grand prizes! Winners of the prizes will be announced 1pm and 3pm on the TV screen at the Centre Court Stage (in front of Bath & Body Works). Don't miss the chance to win Samsung Tablet, Sportchek Bikes, ACER Laptops and more!CRNTRAL WALK (centralwalk.com)
Gift card will be available to redeem at Mayfair Guest Services on September 3rd 10am-4pm
Winners must be present at the stage to claim the prize
Shop and Play: For every $100 you spend at any Mayfair retailer or combination of retailers; you will get a chance to play our fun mini-games and receive a $10 gift card by winning the game!
Game station will open 11am-5pm, print receipts ONLY. 5 chances maximum per person.
*Terms and conditions apply. Gift Cards will supply in a first-come first-served basis. More details on Campaign rules & regulations.